Portable Oil Filter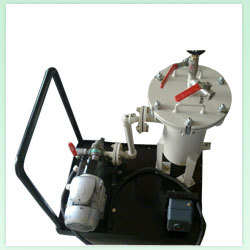 Portable Oil Filter
Product Description
Backed with the support of a professional team, we are successfully manufacturing and supplying a great range of Portable Oil Filter Unit. It is designed to filter insulating oil, lubricating oil, coolant and other hydraulic fluids. We are offering this Portable Oil Filter Unit to clients at competitive price.
Features:

Designed with castor wheels that make the unit easy to move
Appreciated for rugged and rust proof body
Acknowledged among clients for its consistent performance
The unit consists of:

Filter Housing: FH-21 -150 ID x 350 mm L, 1 BSP connections
Pump - Rotodel make, CI, gear type with motor 0.25 HP, 1 Ph, TEFC Crompton,Kirloskar make
Interconnecting piping
Pressure gauge, drain valve, vent valve, suction strainer
Electric DOL starter , Cable
Base frame, Castor wheels, hoses, etc.
Overall size: 0.5 x 0.5 x 0.6 m ht. Empty weight - 40 Kg

Q: What is a portable oil filter unit?

A: A portable oil filter unit is a compact, self-contained filtration system designed to clean and purify oil on-site, typically in remote locations where access to a centralized filtration system is not available.




Q: How does a portable oil filter unit work?

A: A portable oil filter unit works by circulating oil through a series of filters, typically including a pre-filter, fine filter, and polishing filter, to remove contaminants such as debris, water, and oxidized materials.




Q: What are the benefits of using a portable oil filter unit?

A: The benefits of using a portable oil filter unit include its portability, ease of use, and ability to quickly and effectively clean and purify oil in remote locations, thereby reducing downtime and maintenance costs.

Q: What industries use portable oil filter units?

A: Portable oil filter units are commonly used in industries such as oil and gas, mining, construction, and transportation.